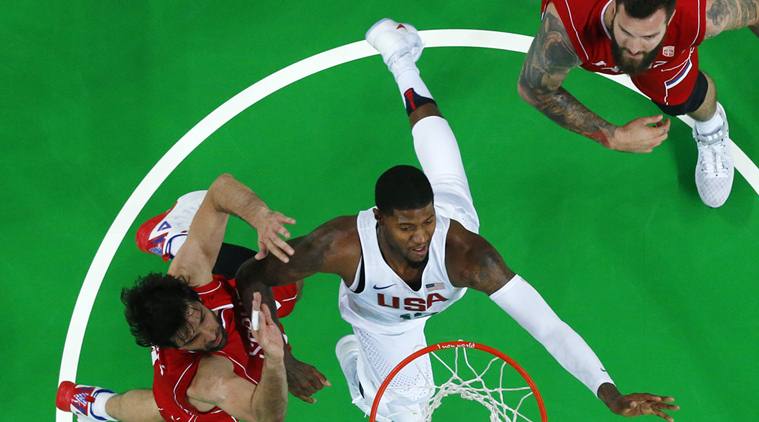 August 24, 2016 8:08 am
With their swagger back, Team USA are all set to be back in the final of the Olympic men's basketball tournament.
They are of course the heavy favourites at Rio 2016 but they need to hurdle old nemesis Spain in the semi-final on Saturday.
The Americans beat the Spaniards for the gold in the 2008 Beijing and 2012 London editions, and are poised to stamp their supremacy again over the latter in this rematch.
But with the way Team USA stormed to the semis with a mighty 105-78 rout of Argentina on Wednesday, Spain may just as well be contented to have reached the last four after their sluggish start in the in this year's event.
"We got our swagger back, offensively and defensively," Team USA guard Paul George, a three-time NBA All-Star, said.
George will be among the "headaches" Spain need to overcome. Kevin Durant, Carmelo Anthony, Kyrie Irving, DeMarcus Cousins, Klay Thompson, DeAndre Jordan, DeMar DeRozan, and the rest of the NBA stars will also be there to torment Pau Gasol, Nikola Mirotic and their cohorts.
"This is another challenging team, so we have got to come in right," George said about Spain, who advanced against the US after trimming France 92-67.
In the other semi-final matchup, Australia, led by classy point guards Patty Mills and Matthew Dellvedova as well as big man Andrew Bogut, takes on Serbia.
The Aussies, ranked 11th, upstaged 3rd-ranked Lithuania 90-64, while Serbia tripped Croatia 86-83, in the other quarterfinal games.
Australia are looking for a first ever Olympic basketball medal.
Meanwhile, Tony Parker, 34, confirmed after the loss to Spain that he had played his final game for France.
His San Antonio Spurs teammate Manu Ginobili, 39, also bid farewell to his international career for Argentina.

Categorised in: Basketball News
This post was written by Super Admin