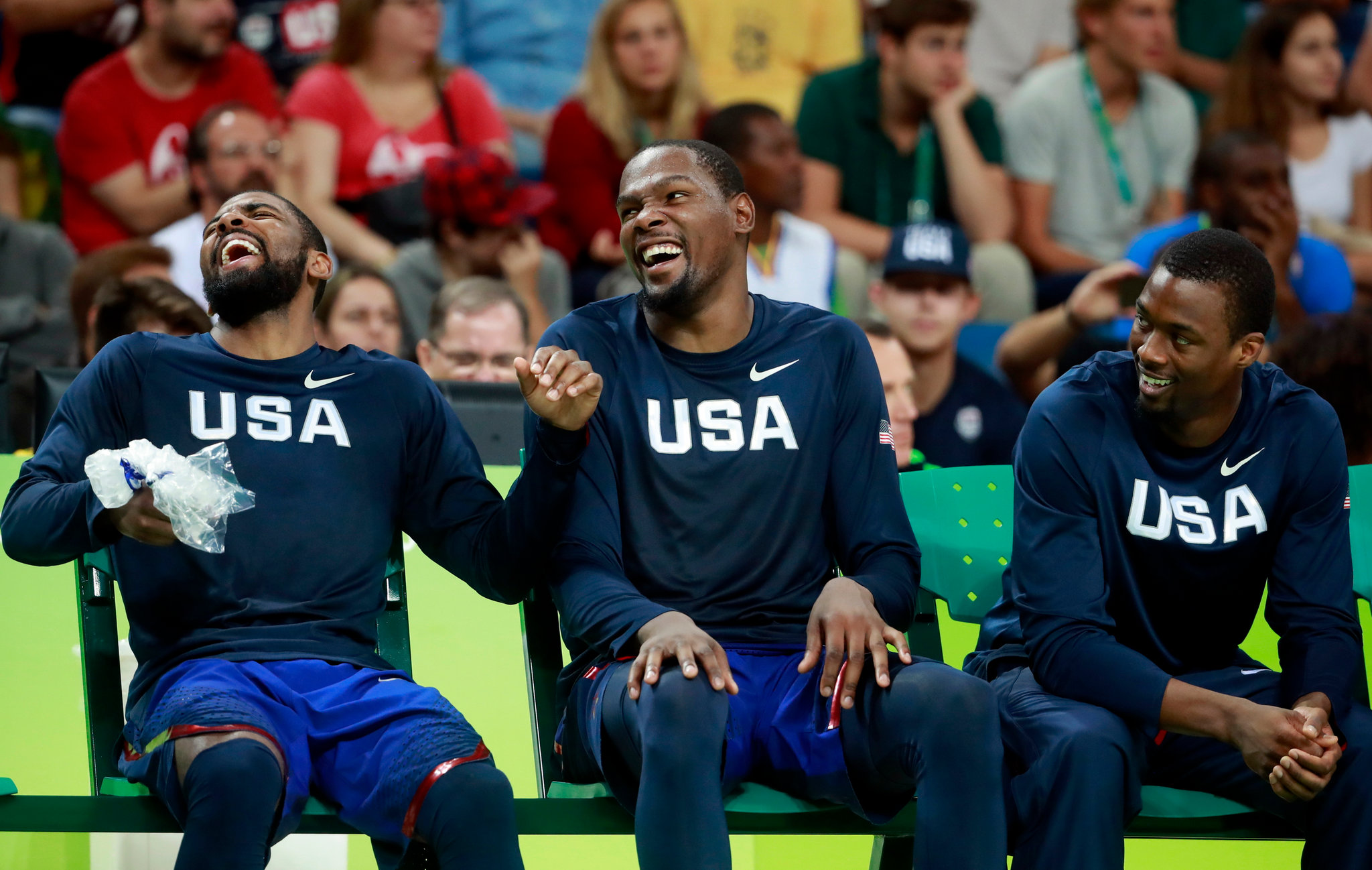 August 24, 2016 9:24 am
The United States threw its might against Serbia in the battle for Rio Olympics men's basketball gold on Monday, showing everyone that they are still kings in the sport.
With Kevin Durant leading the assault, Team USA rolled to a masterful 96-66 win to bring home a third straight title in the Games and give coach Mike Krzyzewski a golden farewell.
The Americans beat the Serbians by just three points in the group round but they meant serious business in the final, unleashing their vaunted offence and suffocating defence to take the fight out of the Serbians.
After a slow start, they revved their offensive engine and stormed to a 52-29 halftime lead before coasting to their 25th straight win in the quadrennial sportsfest.
Durant unloaded 24 of his output in a sizzling opening half at Carioca Arena that saw the US uncork a paralysing 40-15 run, while DeMarcus Cousins was again a monster on the boards, hauling down 15 rebounds, aside from adding 15 points.
The merciless rout capped the Team USA coaching tenure for Krzyzewski, who is signing off after steering the US to three successive Olympic gold medals and a near perfect 88-1 record in international competition. The only stain on his resume is a semi-final loss to Greece at the 2006 world championships.
San Antonio coach Gregg Popovich is set to take the reins from Krzyzewski.
The US also nailed their 15th overall men's basketball gold medal, and padded an overall decade-long winning run to 76 games.
Forward Carmelo Anthony also became the first man to win three Olympic basketball gold medals. He was on the 2004 team that settled for bronze but returned for 2008 and 2012 triumphs, although he said he has no plans to play in the Tokyo 2020 Olympics.
He was fielded back into the rout in the final minutes so he could pull down a seventh rebound, passing David Robinson for US record with the 125th in his Olympic career. He had already become the leading scorer earlier in the tournament.
Earlier, Spain nipped Australia 89-88 to snare the bronze.
Last Sunday, the US women's team spanked Spain 101-72 to set the tone for a double-basketball gold for the Americans.
Nemanja Nedovic had 14 points to lead Serbia, who must be proud to feel that their silver finish was already a "golden'' accomplishment.
When the final buzzer sounded, the jubilant US players hugged each other and then Krzyzewski.

Categorised in: Basketball News
This post was written by Super Admin