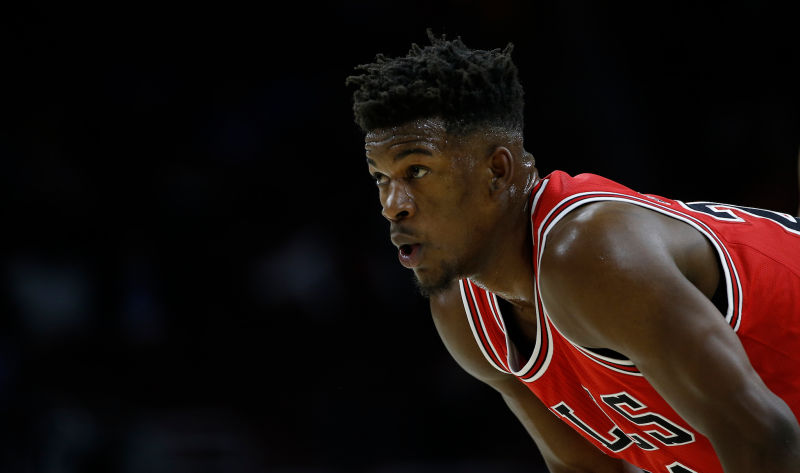 March 8, 2017 10:32 am
Jimmy Butler has challenged his Chicago Bulls team-mates to bring more consistency to their performances after they stunned the Golden State Warriors at the United Center.
The Bulls condemned the Warriors to back-to-back league game defeats for the first time since April 2015 with a 94-87 success.
Houston-born Butler has no doubts about the talent that exists in the Bulls locker room but he insists they must start bringing it on court every time they play.
Chicago were booed off the floor in Tuesday's blowout loss to the Denver Nuggets before stunning the Warriors on Thursday.
Coming off a run of four losses in five, they've now won five times in six games, Butler is targeting improved consistency and he says it's not good enough to raise their levels only for the big games.
"I think whenever it's those prime-time guys everybody wants to show that they can play. I don't have a problem with that," he said.
"But now, you treat everybody as a prime-time guy because that's what it is in this league. You're in the best league in the world, everybody can play. You've just got to show up every single night."
Their recent spike has brought wins over the Boston Celtics, the NBA-champion Cleveland Cavaliers and now the Warriors.
Veteran shooting guard Dwyane Wade agrees with Butler that it isn't enough to perform in the big games.
"As we've said throughout the year, when you're playing the best teams in the league, when you're playing the best players, you have a healthy fear in your belly of what they can do [to] you, how they can embarrass you," Wade said.
"That's what we're trying to grow. We're trying to grow that to where it's consistent around the board."
Golden State are 1.75 favourites to win the NBA Finals this season, while the Cavaliers are 3.75 and Chicago are 151.00.

Categorised in: Basketball News
This post was written by Super Admin